Chairman's Profile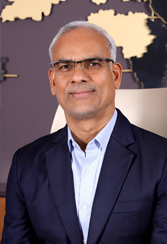 He was born in 1963 as the second son of Mr. Moosa, a trader and Mrs. Kunhami in a small hamlet called Kurikkilad, Vadakara near Calicut in the southern Indian State of Kerala. Calicut is known for the visit of Vasco Da Gama and its early trade route to the Gulf States from time immemorial. Born against a traditional business backdrop, K P Basheer was greatly influenced by the business acumen of his father who inculcated in him, a simple lifestyle and righteous business ethics.
After his formal education, Basheer, like any other youngster from the area those days, with a go-getter attitude and determination to succeed in life, reached the shores of the Kingdom of Bahrain in 1983, then a thriving economy. After working in Bahrain for a year, he set up a small outlet called Gift Palace which sold a wide range of Kids' toys and gifts. The success of the outlet made him expand the product range to Electronics, Household products etc. In 1986, the business added wholesale trading as well through a well-established business network.
This network helped the trading outfit to import goods from Dubai to Bahrain to be retailed there. Meantime Gift Palace grew into a larger Retail area and the trading activity increased prompting Basheer to go into a high drive.
He made the decision of his lifetime in 1998 to relocate to Dubai, which had started attracting international attention as an epicentre of business activity in the Middle East. Though the Russian dominance in the market was waning and the market was going through turbulence, the diehard optimist in Basheer decided to hang on to the Emirate of Dubai where he had set foot with great determination. Here is where GEEPAS was born, first as an idea and then as a reputed brand that you see today.
Years later Mr. Basheer admits that the biggest challenge he ever faced in life was launching the brand GEEPAS, at a time when Multinational brands were ruling the roost and dominating the global market by aggressive positioning of their brands and huge marketing spends and supported by an established supply chain. GEEPAS first survived the onslaught of the MNC domination through the unique business model which it offered its dealers who welcomed it wholeheartedly and there it started its journey.
Through an aggressive Marketing support, GEEPAS began growing. Very soon, the volume of business grew and the brand became synonymous among the ordinary man who found his tastes being catered to and his requirements being fed with an affordable price tag. A range of products that was affordable only for a select few among the elite was now available to an enmasse segment in the market place, the common man.
This unique mix of product management is the secret of the GEEPAS' success story as it enters into a truly multinational bandwidth years later.
"It was a dream to bring in a brand that the common man identified himself with, and I am glad that we could achieve it within no time" proudly says Mr. K P Basheer, today the Chairman of a Group that has diversified into several businesses in the last 4 decades of their existence.
GEEPAS established itself as a brand by adopting very stringent methods and systems that bordered along global quality standards. The Quality Control procedures adopted at the Manufacturing locations, the Components testing facilities, a string of Quality
Control experts lined up at every country of manufacture and the eye for detail practiced by trained and qualified Sourcing personnel in several countries like China, Taiwan, Thailand, Turkey, India, Egypt, Europe etc., provides GEEPAS, the right impetus for launching innovative products that serve a broad cross section of the market, be it the high and the mighty or the low and the laity.
"We launched GEEPAS after carefully evaluating the domestic market requirement and found that there is a space for a good mid-segment brand in a period where most of the Consumer Electronics products that were in offer were either too high priced or did not cater to the common man's needs or even understand them", says Basheer.
The brand has over the years invested in several factories in these locations through exclusive assembly lines and moulds, making its range of products unique in quality, innovation and aesthetics which give it a range priced to suit the average man's wallet. GEEPAS success lies not just in a good range and a pocket friendly pricing structure. Over the years the brand assumed a certain status in the mind space of its customers through a Service Support that offers a record Service Turnaround time of 5 days, humbling even the top brands. The professionally managed GEEPAS Service centres that run in the GCC, India, Pakistan, Afghanistan, Nepal and Bangladesh are the bedrock of the GEEPAS' fairy tale success.
It took Mr. Basheer a few more years as his Midas touch got him success in almost every business he entered into. Younglife, the lifestyle division was founded in 2002 and in 10 years, it grew into a self-reliant brand portfolio having expanded into Garments (KEN JARDENE), Innerwear (YOUNGLIFE), Footwear(NONSTOP, JUDGER, MASPO), fashion accessories and Baby products(BABY PLUS).
NESTO, is the Group's rapidly expanding retail arm that draws on our vast expertise and resources in the region. Since its inception in 2004, Nesta has been on the fast track of growth and expansion. Nesta today operates across three segments of the retail industry Department Stores, Supermarkets and Hypermarkets .Over the last 10 years, Nesto has opened over 100 outlets across Middle East & India with a total retail space of 2 million square feet. Nesta is all set to expand into new markets in Middle East. Nesta aims to reach 150 Hyper Markets by 2025. NESTO has set new benchmarks of accomplishment with our unique business strategy. The brand places uncompromising emphasis on convenience, acce­ssibility and providing top quality products at competitive prices to customers. Today, Nesta stands apart from our competitors by offering customers a unique shopping experience that they cherish and want to relive time and again.
7 new shopping Malls with a total area of 1,100,000 Sft are coming up in the Middle East and another 8 Shopping Malls are scheduled to rise in the cities of Kochi and Calicut in India, in next few years. Soon the group's presence in power retailing would be noticeably large.
In 2006, the group launched Royalford, the group's most successful household brand with a massive range of Cookware, Non-stick appliances, tableware including Dinner sets, Cutlery and Kitchen accessories which are aesthetically classy as well as durable. Competitively priced with a range of 3000 plus products, Royalford brings all that one would need for a comfortable living. The group added another vertical in the form of Luggage and accessories called PARAJOHN which has grown beyond expectations within the least turnaround time possible.
In the years that followed, many brands and verticals came up. Clarkford Watches, a set of branded watches that comes in several unique collections is another success story from the brand stable of the group which stands rechristened as the WESTERN INTERNATIONAL GROUP. The group today employs over 5,000 people in 6 countries and is expected to add another 2500 more in another year with the retail expansions in the offing.
Interestingly Western International Group grew by a whopping 24% during the recession. At a time when most companies were laying off their staff, they were busy hiring more professionals to head their various departments. Today the group boasts of some of the finest professionals in several layers who have come from various disciplines from many multinational brands and environments.
"Introducing Products that the people need in their daily lives, at a price which is comfortable for them, has been the mark of our success", says Mr. Basheer who owes his business acumen and lifestyle to the early grooming tips from his father who is still the inspiring force behind Mr. Basheer who is assisted by 4 of his brothers, 2 of his nephews and his son in law who plays strategic roles within the establishment.
Looking back at a 3 decade old journey, K P Basheer is grateful for the patronage of the UAE leadership whose strong support for the business community and the open door policy extended to the expatriates. The success of UAE lies in its cosmopolitan social structure, its business friendly policies and an investment friendly environment, concludes Basheer.
Here is a man who stood the test of times, braved all odds and came up winner in a saga of success. He is humility personified and his warmth reflects the group's customer friendly policy. He is K P BASHEER.