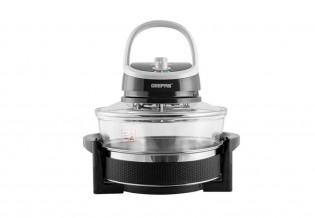 Kitchen Appliance - Oven
GH034048UK is Kitchen appliances equipment under the brand Geepas electronics.
Product Features
Multifunctional cooker:cooks many ways-Broil-Roast-Bake-Grill-BE3Qetc.
Easy Cooking: Easy to Operate - just set time&Temp.; Easy to Clean
Even Cooking: Hot moving air circulates around the food
it cooks evenly.
Healthy cooking: No soot Non-radiativer oil and fat free
Quick Cooking. Cook 2-3 times faster than standard oven Saving 60% energy than the common OVEN.
Prfect Cooking: Foods sear quickly outsid
Saling juices inside.
Heat resistant glass bowl gransparent container allows you to clearly
see what you are cooking
and easy-cleaning
Safety and energy-saving micro-switch
Capacity : 12 Liters. it could be enlarged t0 17 liters with extender ring
60 mins timer
AC 220-240VSO/60Hz
1200-1400W
Product Support
Please call us at 800-433727 or any of the telephone numbers listed in the Contact page and our personnel would happily assist you.
Watch TV Commercial