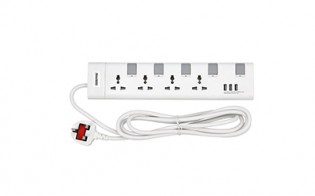 Extension Socket
GES4095N is Extension socket under the brand Geepas electronics.
Product Features
Rated voltage:250V-50/60Hz
Rated current:13A
Rated power. Max 3250W
Plug type: BS 1363/A
SS 145/A MS 589/A Cable size: 3 Cores X 1.25mm
Cable length: 3 meter
USB OUTPUT:5V
Product Support
Please call us at 800-433727 or any of the telephone numbers listed in the Contact page and our personnel would happily assist you.
Watch TV Commercial