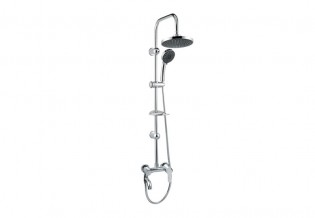 SHOWER COLUMN WITH MIXER
GSW61063 is Bathroom Fitting equipment under the brand Geepas electronics.
Product Features
Material: Fresh ABS material, stainless steel, Brass
Colour. chrome plated
1/2" standard connector
5-functions ABS hand shower
Stainless steel Sliding bar length: 90cm
Stainless steel shower hose length: 1.5 meters
Brass shower faucet
Complete set including: 1 pc sliding bar, 2pcs wall bracket, 1pc shower holder, 1 pc soap dish, 1 pc hand shower, 1pc overhead shower 1 pc shower hose, 1 pc shower faucet, 1 pc plug screws bag
Product Support
Please call us at 800-433727 or any of the telephone numbers listed in the Contact page and our personnel would happily assist you.
Watch TV Commercial