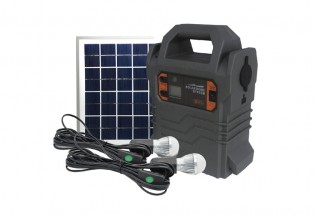 RECHARGEABLE HOME SOLAR SYSTEM
GPS5902 is Home appliances equipment under the brand Geepas electronics.
Product Features
Solar panel Wattage: 18V/10W
Battery capacity: 12V/7.5AH rechargeable lead-acid battery
LED bulb: DC12V/5Wx 2 pcs
USB output: DC5V 1 AH/ USB port DC 5V <1AH/ 2 USB port
DC output: 12V x 6 ports
DC charging time: 8 -10 Hours
Solar charging time :10-12 Hours +/-(depending on weather conditions and position of solar panel)
POWER ADAPTER
Input: AC 220-240V 50/60Hz
Output: DC 15V/2A
FEATURES
Working time A: E27 bulb on the E27 screw holder cannot over 5 watts 1 bulb :15 hours
2 bulb :7.6 hours
3 bulb : 5.1 hours
4 bulb : 3.8 hours. (usage time is approximate and for reference purpose only)
USB charge out for charging mobile and other devices
LCD digital display for power and usage ACCESSORIES INCLUDED
18V/10W Solar Panel X1 pcs
12V/5W Light Bulb &cables with on/off switch X2 pcs
AC adapter
Product Support
Please call us at 800-433727 or any of the telephone numbers listed in the Contact page and our personnel would happily assist you.
Watch TV Commercial