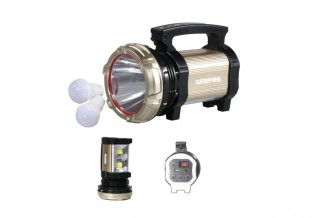 Rechargeable Search Light with Lantern
GSL5709 is Lighting device equipment under the brand Geepas electronics.
Product Features
Battery:4.V 6000 inAh sealed lead-acid rechargeable battery
2 PCS 3W Hi-power COB
1PCS 10W Hi-power LED
2 PCS 3WLE0 bulb
Charge time:8 -10hours
Duration : 8 hours/strong torch light
10 hours/full weak torch light
12 hours/SOS torch light
8 hours/strong COB
10 hours/weak COB
10 hours/2 PCS 3W LED bulb
AC:220-240V 50/60Hz
DC:3 PCS. (could use with 2PCS 3W LEO bulb)
With USB (5VOUTP(JT)and USBcontrol switch
USB charge Indicator
Product Support
Please call us at 800-433727 or any of the telephone numbers listed in the Contact page and our personnel would happily assist you.
Watch TV Commercial