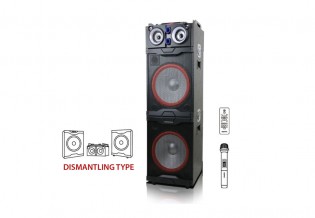 DOUBLE 15" PROFESSIONAL SPEAKER SYSTEM
GMS8598 is an Entertainment equipment under the brand Geepas electronics.
Product Features
USB/SD/FM
Bluetooth
Disco Light
S/N: 80d8
Impedance: 4 ohm
Frequency: 20Hz-20KHz
Bluetooth version: 2.0
Speaker specification: 15". 2 woofer + 4 tweeter + 4". 2 mid range speakers
Wireless mic workable distance: 8 to 20 meters
Wireless mic battery type: AA battery (not included)
Function: Radio/USB/SD card/Wireless mic/AUX/Remote control
Additional features: LED display; LED lights
Power source: AC 220-240V 50/60Hz; 150W
Product Support
Please call us at 800-433727 or any of the telephone numbers listed in the Contact page and our personnel would happily assist you.
Watch TV Commercial