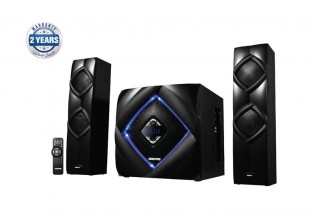 2.1CH MULTIMEDIA SPEAKER SYSTEM
GMS8583 is an Entertainment equipment under the brand Geepas electronics.
Product Features
USB/SD/FM
Bluetooth version: 4.0
Frequency response: 40Hz-150Hz 150Hz-20KHz
Impedence Subwoofer drive: 4 Ohms Satellite drive: 4 Ohms
5/N ratio: >=65dB
Seperation: >=45dB
Subwoofer drive size: 6.5"
Satellite drive size: 3"
Remote sensing distance: >=8 meters
USB/SD file format support: MP3 WMA
USB device max. memory size: 32G
SD/MMC card max. memory size: 32G
FM frequency scan range: 87.5-108MHz
FM storage memory: 40 channels
Input power: AC 220-240V 50/60Hz
Product Support
Please call us at 800-433727 or any of the telephone numbers listed in the Contact page and our personnel would happily assist you.
Watch TV Commercial