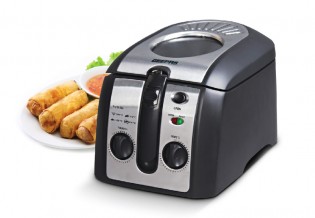 Stainless steel deep fryer
GDF5478 is a Kitchen appliances equipment under the brand Geepas electronic.
Product Features
Capacity : 2.5L
Power (Watt) : 2000W
Deep fryer with removable lid -basket and oil pot (non stick) Stainless steel control panel Capacity: 2
5L Adjustable temperature control from 130°C-190°C
Power and temperature reach indicator Mechanical timer Glass view window . AC: 220-240V 50/60Hz 1700W - 2000W
Product Support
Please call us at 800-433727 or any of the telephone numbers listed in the Contact page and our personnel would happily assist you.
Watch TV Commercial