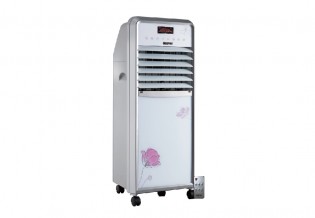 Air Cooler
GAC9495 is a home appliances equipment under the brand Geepas electronic.
Product Features
Speed Modes : 3
Fan Modes : Normal/Natural/Sleep
Remote Control : Yes
Power (Watt) : 85W
Ice Box : Yes
Water Tank Capacity : 8 Liter
3 Speed Options: low/med/high
3 wind modes: Normal/Natural/Sleep
0.5 - 7.5 Hours timer
Water/ice compatible .
Automatic horizontal and mechanical vertical swing
Remote control
2pcs Ice box
Cooling pad
Pumping humidifying function
Honeycomb for more cooling efficiency
8 Liter water tank
Ionizer
Voltage: 220 - 240V 50 / 60Hz 85W
Product Support
Please call us at 800-433727 or any of the telephone numbers listed in the Contact page and our personnel would happily assist you.
Watch TV Commercial