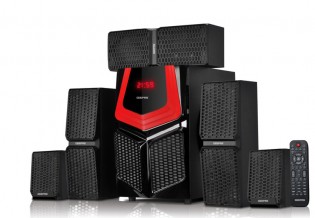 5.1 Channel Multimedia Speaker
GMS8505BT is an entertainment product under the brand Geepas electronics.
Product Features
Type : 5.1 Channel Multimedia Speaker
LED Display : Yes
USB/SD card reader : Yes
Remote control : Yes
Output Power (Watt) : 50000 W
SB/SD/FM// Bluetooth /Remote control
Digital LED display
Sub:8"/80W Sat: 3"*5/18W*5
Full function remote control
Microphone input
MP3 format song decoder
Intelligent number keys directly selects MP3 songs
Smart folder selection for songs - CH+/CH-
AC:220-240V 50/601-1.
Product Support
Please call us at 800-433727 or any of the telephone numbers listed in the Contact page and our personnel would happily assist you.
Watch TV Commercial