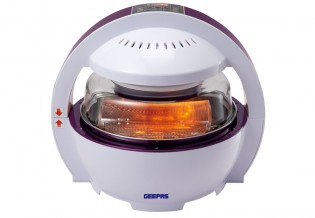 Digtal Air Fryer
GAF5424 is a Kitchen appliances equipment under the brand Geepas electronic.
Product Features
Multi functional: stir frying - oil less fry-roast-bake
BBQ-grill-broil-etc
Quick cooking: fry chips in 15-20mins-roast 2kgs chicken in 15mins
Even cooking: turbo air & food rotating ensure even cooking. 3D heating
Healthy cooking: fat & oil free
Easy cooking: set time&temp-then air fryer does all
Perfect cooking: foods become crispy outside-and juicy inside
We can see through the whole cooking from all sides
Easy clean-detachable bowl for easy-clean
Patented turbo air guidance from top to the food
Double safety settings-GS-A13 approved
Friendly digital control-
6 one-touch programs
AC:220-240V 50/60Hz 1100-1300W 65-250 C
Product Support
Please call us at 800-433727 or any of the telephone numbers listed in the Contact page and our personnel would happily assist you.
Watch TV Commercial