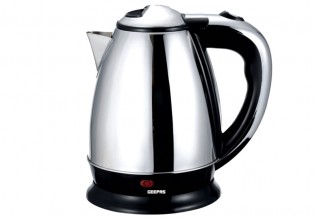 Electric Kettle
GK5346 is a Kitchen appliances equipment under the brand Geepas electronic.
Product Features
Capacity : 2.0L
Power (Watt) : 1850-2200W
Automatic Switch Off : Yes
360°cordless electric kettle. Immersed heating tube with a stainless steel plate under it
Water level scale in metric & English systems and limit marks
Three levels of appliance protection
Temperature sensing controller-automatic switch-off when water is boiling
Dry boiling protector-boil-dry-safety cut off
Thermal fuse cut off the circuit if dry boiling
protector fails
Capacity:2.0L
AC:220-240V 50/60Hz 1850-2200W
Product Support
Please call us at 800-433727 or any of the telephone numbers listed in the Contact page and our personnel would happily assist you.
Watch TV Commercial