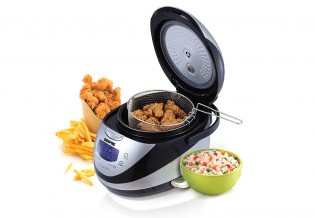 Multi Cooker
GMC5452 is a Kitchen appliances equipment under the brand Geepas electronics.
Product Features
5 Liter non stick inner pot
IMD control panel-firm and durable
Aluminum heating element.
Metallic drawing texture-innovative surface
Sensor touch key on control panel-operating easily
Big digital LED display-PCB intelligent temperature control
Detachable inner lid and steam outlet easy to clean
Aluminum alloy inner pot with non-stick coating
24 hours Preset function and Keep warm
Unique power off memory function - more safety and stable
DIY cooking range 35°C to 180°C cooking temperature and 1 minute to 15 hours cooking time
AC: 220-240V 50/60Hz 950W
Product Support
Please call us at 800-433727 or any of the telephone numbers listed in the Contact page and our personnel would happily assist you.
Watch TV Commercial