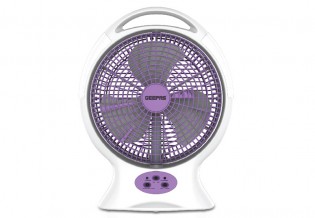 12 Inch Rechargeble Fan with LED Light
GF9487 is a home appliances equipment under the brand Geepas electronics.
Product Features
Power (Watt) : 24 W
Charging Time (hr.) : 12 - 15 Hours
High Speed Duration Time (hr.) : 3.5 Houres
Low Speed Duration Time (hr.) : 5.5 Hours
LED Lamp : 10 PCS LED
AC/DC Function
Easy to Carry Over Charge & Discharge Protection
Charging Time : Approx 12-15 hours
Fan Speed : Approx. 4 m/s Rechargeable Lead Acid battery 6V 4.5Ah
Super bright 10pcs LED
AC 220 - 240V 50Hz/60Hz 24W
Duration:
Fan High Speed - approx 3.5 hours Fan Low Speed - approx 5.5 hours LED - approx 25 hours
Product Support
Please call us at 800-433727 or any of the telephone numbers listed in the Contact page and our personnel would happily assist you.
Watch TV Commercial