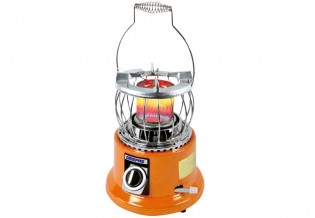 Gas Heater&Cooker
GGH9534 is a home appliances equipment under the brand geepas electronics.
Product Features
Available for heating and cooking function
Consume the tolerance: 0.27kg/h
Imported heat-resistant fire net- net life more than 10years
Pure copper valve core- pure copper gas tube- pure copper spray nozzle- durable and no leakage- longer life more than 10 years
Dual heating function with flame control lever-heater and cooker 2 in 1- whole unit life more than 10 years
Moderately dry your room- purifying the environment-effectively inhibit the growth of bacteria
Steel body-all steel thickness more than 0.6mm-sturdy and durable
Exquisite outline- easy handhold design- portable anywhere at your disposal
Steel surface treatment by ECO electroplating technique to avoid steel rust
Piezoelectric ignition switch-life can be over 30000 times. Fire or gas can be turned up and down freely
Unbreakable-shock-resistant-sturdy-durable package to ensure product transit safety.
Product Support
Please call us at 800-433727 or any of the telephone numbers listed in the Contact page and our personnel would happily assist you.
Watch TV Commercial