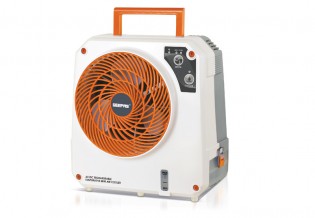 Air Cooler
GAC9486 is a home appliances equipment under the brand Geepas electronics.
Product Features
Fan Speed: Approx. 4 m/s
Air Flow: approx. 300 m3/hr
Fan mode: High/ Low
DC Brush motor 6V
Power Consumption: 26W
Detachable water tank capacity:1.2 litter
Water Evaporative Capacity: approx.150 ml/hr
Cooling System: Honey cooling media for optimum cooling
Rechargeable & replaceable sealed lead acid battery 6V 6Ah
Charging time:12 hours
Input Voltage: AC 220 - 240V 50/60Hz
Product Support
Please call us at 800-433727 or any of the telephone numbers listed in the Contact page and our personnel would happily assist you.
Watch TV Commercial