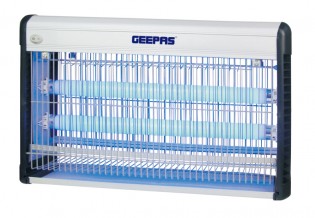 Bug Killer
GBK1147 is a home appliances equipment under the brand Geepas electronic.
Product Features
Product Size : 69.8X10.70X33.8CM
UV : Yes
ble for home/restaurants/hotels and office
The effective area of this product is 50 square meters with correct using methods Away from strong light and wind power/due to it is a device of low power / decorate/ soporiferous bland light and flowing current /using method is important for efficiency/E.G. plug it into an electric socket before switch on the light or switch on the light or switch off all the strong lights for 20-30 minutes suddenly
The best location is at the entrance of doors or windows please hang it on the height of 1.80-2.20 meters and keep 0.30 meters away from the wall
AC: 220-240V 50/60Hz 2X20W
Coverage area: 50-60M2
Dimension: 69.8X10.70X33.8CM
Recycled/no sprays/no smell /no fumes/no mess
without and side-effect or bad reaction to human being
This is unit utilizing two high-quality ultraviolet bulbs
to attract insect which is then
Eliminated by the high voltage current which runs
through the electrified metal grids rear the bulbs
Circuitry designed with limit of electric current/low energy loss and high efficiency
Product Support
Please call us at 800-433727 or any of the telephone numbers listed in the Contact page and our personnel would happily assist you.
Watch TV Commercial