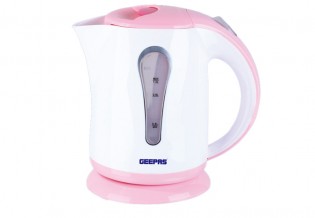 Electric Kettle
The Geepas kettle is an ideal appliance to bring hot tea or coffee to your bedside. It has a capacity of 1 liter, allowing you to prepare as many hot drinks as your friends and family crave. The kettle is designed with a concealed stainless steel heating element. The 360 degree rotation heating base offers hassle-free use. With a dual water level indicator, you can carefully plan the quantity of liquids. The auto shut feature and overheating protector further enhance its user-friendly build. The kettle is also fitted with a washable filter to rid the water of germs and bacteria.
Product Features
Capacity : 1.0L
Power (Watt) : 1350W
Indicator Light : yes
Concealed Heating Element : yes
Automatic Switch Off : yes
1.0L capacity 360 cordless kettle
Stainless steel body strong in 0.4mm
Concealed heating element
Boil-dry protection
Automatically turns off when water boils
ON/OFF switch and light indicator
Safety lock lid
Small kettle which is convenient to bring
AC: 220-240V 50/60Hz 1350W
Product Support
Please call us at 800-433727 or any of the telephone numbers listed in the Contact page and our personnel would happily assist you.
Watch TV Commercial