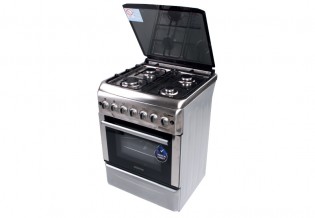 FREE STANDING COOKING RANGE
GCR6059FPMST is a Kitchen appliances equipment under the brand Geepas electronics.
Product Features
Full Gas 60x60 Free Standing Cooker
Full Safety Model
3mm Flat Burner Caps
4 Gas Euro Pool Type Burners
Wide Enamel Pan Supports
Silver Color Knobs & Aluminum Handle
Double Knobs Control Separately System
Double Vertical Stainless Steel Stripes
Oven Lamp & Push Button Ignition Top Gas Burners
Push Button Ignition Gas Oven & Gas Grill (FULL IGNITION)
Top & Control Panel Mat Stainless Steel
Double Layer Brown Glass Wool Insulation
Glass Top Lid
Turnspit (Chicken Rotisserie)
Mechanical Timer .
Product Support
Please call us at 800-433727 or any of the telephone numbers listed in the Contact page and our personnel would happily assist you.
Watch TV Commercial